Treehouse Hammocks & Hanging HUGS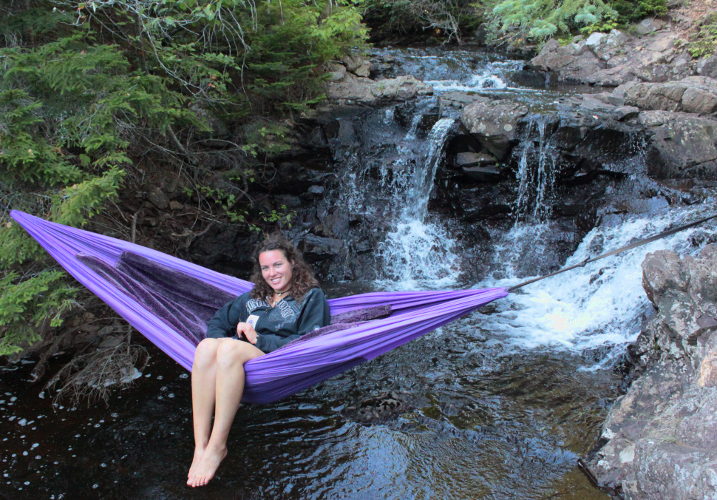 Hanging Hugs are light, compact, comfortable and durable... these hammocks are a comfortable bed anywhere-- on steep terrain in the mountains when a flat spot is hard to find, or 20 feet up a tree above a parking lot downtown after the club closes, when it is too late to crash at a friend's pad (I speak from personal experience).
Prices range from $50 for an ultra-lite backpacking hammock to $200 for a fun-fur lined cuddle puddle.
See what we currently have in stock
Call: 506-654-3073 or email: cor.contact(at)gmail.com
Saint John, New Brunswick, Canada
Profits are used to provide free hammocks for Ugandans in need of a cozy place to sleep. Stitch Uganda Together, our grassroots organization, also facilitates cultural exchange opportunities, and is focused on creating a free summer camp for youth from across Uganda and around the world to play together in a permaculture garden paradise. Join us on facebook and participate in the Google group.
---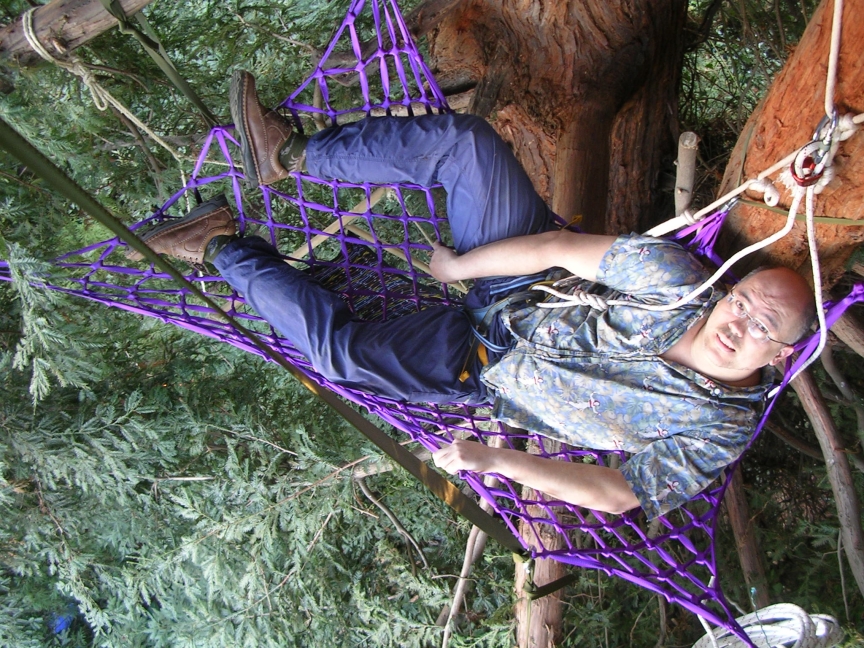 Joe's Treehouse in Oakland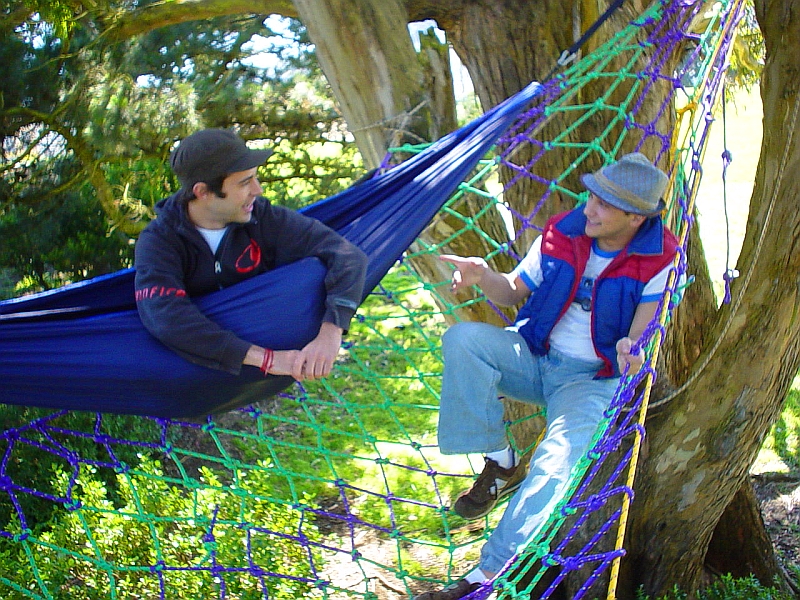 Treehouse in Alamo Square Park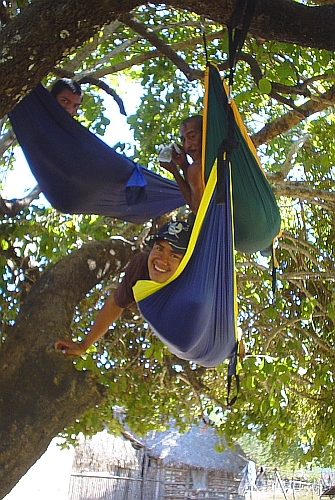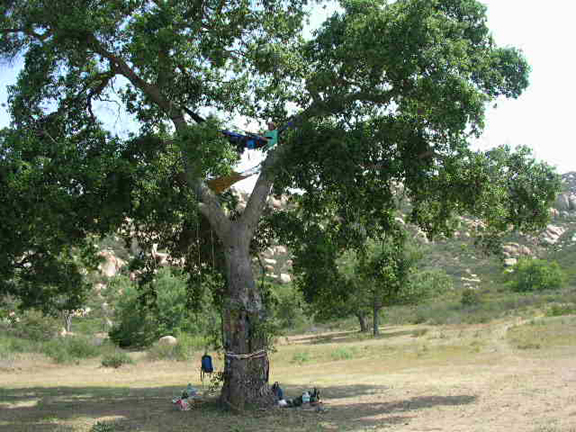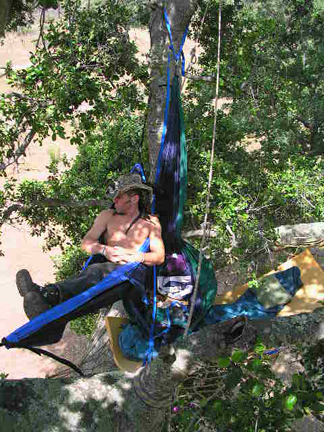 MAXís Treehouse
by Pablo Capra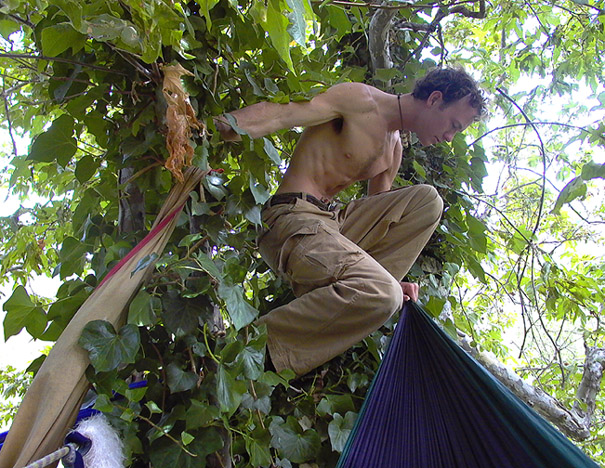 "At age 17, day dreaming in chemistry class, I was struck by the realization that my life needed direction - a mission to focus my passions. I didnít want to waste my youth. Rushing immediately to the library, I opened an atlas to plot a path."
Like Peter Parker bitten by a radioactive spider, Canadian Cory Richardson begins his online journal with this account of the fateful day when he underwent his superhero transformation to become MAX, committed to getting the maximum out of life.
Sitting 30 feet above the ground in the treehouse he built and lived in for a week in the backyard of a Lower Topanga resident, MAX (now 26) explains what happened next.
His initial plan was to fly to Vancouver, kayak down the west coast to Central America, and then kayak back up the East Coast to his home in St. John, New Brunswick.
He made it as far as Mexico, but just south of Mazatlan he fell in love with a small town called Robilito and found a football-field-sized piece of land there where he could fulfill another one of his dreams: starting an "action hero training camp" called The Far Out School.
MAX often daydreamed in regular school, but loved to learn (his name also stands for "Motivational Academic Xperience"). Regular school never seemed to indulge his main interests: outdoors education and self-exploration. The place where he learned the most about these things was at a summer camp his father ran, taking teenage boys on canoe trips. During these trips, MAX discovered "the essence and adventure of life."
His Far Out School (which opens when regular school goes on winter break, and welcomes all ages) expands upon the concept of summer camp by focusing on personal development and environmental awareness. People come to the Far Out School to have a cultural exchange, build community, explore their higher self, and "develop their super powers."
"I want to get people to realize that we are all action heroes in our own lives," MAX says.
MAXís action hero self takes on the characteristics of his two "totem animals:" the dragonfly and the monkey.
"Dragonflies are light and mobile, and they love to explore. Monkeys are more territorial, grounded, and family oriented. Both aspects are essential to who I am," MAX explains.
His monkey nature is also apparent in his love for climbing, and building treehouses. MAX is a rock climber, and says he has been "hanging out in trees" his whole life.
His treehouse consists of a fishing net in the center covered by a soft piece of foam, and two hammocks on either side. During his stay, he enjoyed inviting people up to see his treehouse. Visitors climbed to the top of a ladder leaning against the tree, then climbed to the top of a rope to reach the treehouse, and were treated to a spectacular view of the mouth of the canyon.
"When Iím up high, I feel high!" MAX says, gazing out over a sea of leaves. MAX has been living in trees on and off ever since he found a fishing net on the beach and strung it up in a tree outside his hometown two years ago. Using his rock climbing gear to get up and down, he was delighted to discover that he could build a comfortable "floating coach" for himself in the forest.
MAX always constructs the bases of his treehouses with a heavy fishing net, then surrounds them with hammocks. He sometimes lashes pieces of wood together to make a more sturdy base, but never harms trees by driving nails into them.
He has lived in treehouses outside the cities of Portland, Maine; Tucson, Arizona; and San Diego, California. "I would rather live in a hammock than an apartment," he says.
MAX supports himself year-round by making beautiful dragonfly pins out of beads and wire, and selling them for $30. He also holds workshops for troubled kids where he teaches them how to make dragonfly pins.
The dragonfly is a symbol of metamorphoses. It is born in a bog and spends two years underwater before it learns to fly. In my workshops, I have a discussion with the kids about who they want to be, and then ask them to write that down and think about that person while their beading so that their dragonfly becomes a tangible symbol of their higher self. The process builds their self-esteem, MAX says.>
MAX's many adventures have been reported on in several newspapers, magazines, and radio shows. He is currently designing his most elaborate tree house to date where he will live when he's teaching at his Far Out School in Robilito.
To read MAX's online journals, buy one of his dragonfly pins, or enroll in his dragonfly workshops and Far Out School, go to his website at www.solomax.com.
His new website is called the Action Hero Network, and seeks to inspire by putting together a variety of interesting people. You can check it out at actionheronetwork.net.
You can also contact MAX through his website to build a treehouse for you!