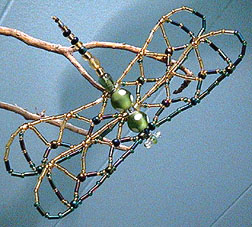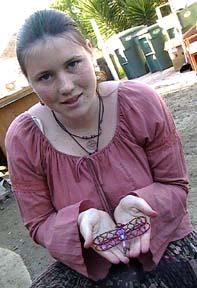 D R A G O N F L Y
I N S T R U C T I O N S
I've given life to over 300 dragonflies since designing the first three years ago. They were conceived while traveling by car, bus and plane, and chillin' on beaches and mountain tops. This simple skill has been a great meditation tool and a huge blessing. They've paid for many meals, and serve as special tokens of appreciation for people I want to stay connected with. It makes me happy to know they are glittering all over the world.
I often create a dragonfly while in conversation with a friend or thinking about someone, then give it to them as a gift. The experience is woven into the dragonfly and it becomes symbolic of what took place or was talked about. When someone says, "I like that dragonfly you are wearing!", I'll often reply, "This one reminds me of..."
I've created a web page of step-by-step images and tips to show everything you need to know to begin creating your own dragonflies. Formatted for easy printing, you can bead it anywhere. Below is an example from the directions...
---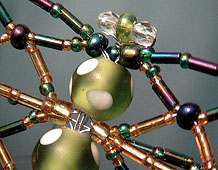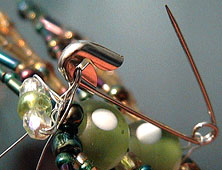 Step #7: When you wrap wire through the safety pin, be sure to pinch it to keep the pin in place.
Needle-nose pliers come in handy to pull wire tight when you don't have much left to grip.
---
Dragonfly Instructions online, for you to print off at home: $5US
Dragonfly Kits, which include instructions, all the beads, wire and safety pin: $10US (or $7 when buying 5 or more)
Outside of the US, send an additional $2US for shipping.
To get a link to the online instructions or receive kits in the mail, simply send the appropriate funds through

or mail a check or money order to:

Cory Richardson
2 Fisherman's Lane,
Saint John, NB,
Canada
E2M-3G9

NOTE: a link to the instructions will be emailed to you within two weeks. Before printing, go to "print preview" and sellect "page setup" to set the margins at zero and header/footer at blank so the instructions will all fit on one page. If it still doesn't fit, there is another setting you can use to scale it down.