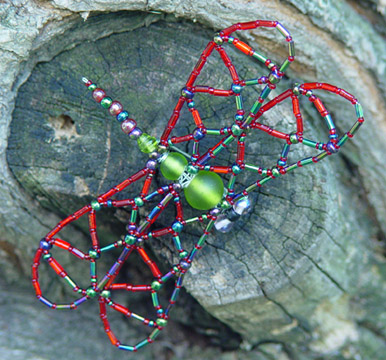 D R A G O N F L Y
P I N S
Dragonfly beading is my meditation. Focusing on pattern is relaxing. It takes me out of my mind, into the physical world and offers instant gratification.
Memories of where and when it was created are woven into each one. The design is a SoloMAX original and I've never made two that look the same.
Approximately 4 x 4 inches-- these dragonflies are very attractive worn as a hat pin or on your shoulder. When not traveling with you, or twirling under your rear-view mirror, they like to move around the home or office, resting on house plants and curtians.
The dragonflies shown here have already found friends to take care of them, but you can order a custom dragonfly by letting me know what colors you'd like: max[at]solomax.com

Dragonfly pins like the examples you see here are $25US. Order through

or by sending a check or money order to:
Cory Richardson
2 Fisherman's Lane,
Saint John, NB,
Canada
E2M-3G9